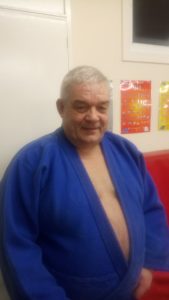 Name: Graham Bayley
Coaching award: Level 3
How long have you been playing Judo: 51 years
Grade: 5th Dan
How you got into Judo:
At an after school club in 1966, worked my way through the grades attaining 5th Dan Jan 2017. I started coaching at Warjukwai at about 1978 with the other high grades in the club, as at that time there were no formal Judo coaching qualifications, so I obtained my Cert. Ed. Teaching Qualification in 1979.
I started Refereeing Judo in Dec 1980 at area level, progressing through to Senior National referee, currently holding the position of Director of Referees for the North West Area and Director of Referees for Police sport UK. I have officiated at nation and international events such as the World Championships, European Championships, Commonwealth Games, and the 2012 Olympic Games in London.
Along the way I have qualified as a referring tutor, and referring assessor up to national level, I am a senior examiner, assessing senior players up to 5th Dan and Junior players through all levels.